The shops have been filled with seasonal Halloween merchandise since at least the beginning of September and as we approach the big spooky day, the mania is only going to embrace. Why fight it though; Halloween is a fun time of the year no matter what your age and makes the most of the darkening days. With mischievous trick or treaters knocking on your door as well as Halloween parties, why not be a bit more creative and hand out some homemade treats as well as sweets, that you'll be able to enjoy yourself too.
We've already a bit here about how home-baking is a wonderful home craft to try out particularly at this time of the year, so baking some Halloween goods is the next natural progression. There are so many cool and original ideas when it comes to creating some spooky treats and if you've got kids, then get them involved too! You don't need professional cake decorating skills either to create the following Halloween treats so read on to find them out.
This idea is great particularly if you've got smaller kids to help or want to cater to little ones and you can whip a whole bunch of these up in about 20 minutes. All you need are white marshmallows, smarties, white chocolate and a black and a red edible colouring pen. Melt the chocolate, dip one side of a smartie and fix to the top of a marshmallow before drawing wiggly red lines and a pupil. And that is pretty much it! Quick and easy, this creepy version of the classic top hat is a sure winner.
Homemade rice krispie treats are a firm family favourite so no wonder some clever baker has turned them into a frightening Frankenstein monster for Halloween! Basic rice krispie treats use rice krispies, butter and marshmallows for the mixture and you can either put it in the microwave or combine in a saucepan (visit the official Kelloggs site for the perfect recipe), just remember to add a bit of green food colouring this time! Once set, dip the very top portion in milk chocolate and pipe on a mouth before adding some more smarties for eyes (check if you can't get some white non-branded versions) and use that black edible pen to add the pupils. Quick to make and delicious, this is a great recipe!
Chocolate apples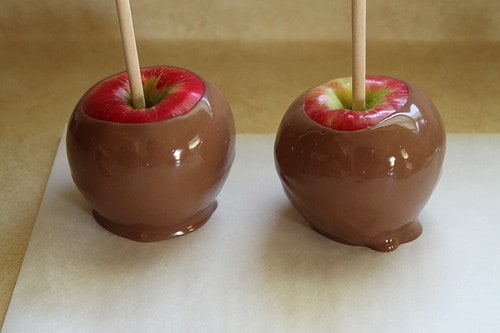 Toffee apples are everywhere at this time of the year, but if you are in a rush and haven't got time to make your own, then why not pick the quicker version of chocolate apples? Needing just chocolate (white or milk, whichever you prefer), some popsicle sticks, apples and hundreds and thousands, this is a sweet and seasonal treat. Melt the chocolate, skewer an apple with a popsicle stick, dip in the chocolate, roll in the hundreds and thousands and ta-da, you have a fairly healthy Halloween treat that both adults and kids are going to love.